Flower sales flourished during the pandemic. When we couldn't be there in person, we sent flowers to reach out and brighten someone's world. Flowers help us touch lives, bring joy, and stay connected.
In the workplace, flowers can be present for us as our remote teams become increasingly disconnected. They also help us stand out and make an impression in the business world.
Reasons to Send Flowers in the Workplace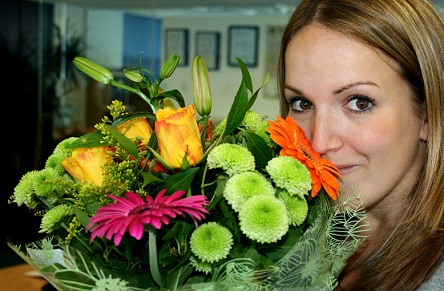 Here are some ways flowers can be used in a professional setting:
Social Flowers In the Workplace
Social Flowers makes sending flowers in the workplace fast, easy, and safe.
You can send flowers to anyone that you email, text, or have social media contact with. The recipient provides a delivery address. All personal information is kept private.
This has several advantages when trying to send flowers in a corporate setting. 
Flowers Can Be Sent Quickly and Easily
Let's say a manager wants to send flowers to an employee that just had a baby. 
They may have to ask human resources to send the flowers, or they would need to ask human resources for the employee's address. Both of these scenarios take time and effort from more than one person.
With Social Flowers, the manager can simply purchase an arrangement and use the employee's email address. 
The employee receives the email and provides a delivery address. They can decide where to receive the flowers, at the hospital or at home. 
Flowers Can Be Sent Safely
Large corporations generally have strict controls on how an employee's personal information, such as a home address, can be shared. When a company shares this information, there is potential for misuse.  
Social Flowers solves this problem because the sender never sees the recipient's address.
Flowers Can Be Sent to Any Contact
Social Flowers can also be used as a tool to gain attention, stand out from competition, or attract new business. A business card or social media connection is all that is needed to send flowers and help attain something you need.
A job seeker can send flowers to a LinkedIn contact to land an interview.
A salesperson can gain the opportunity to make a pitch to a sought-after prospect.
A business person can help close a lucrative deal.