When someone you care about is going through a health issue, you can't always be physically present to support them. But you can send flowers to show them they are being thought of, to provide well wishes, and to brighten their experience with beauty and color.
Sending Flowers to a Hospital Can be Problematic
There are many questions and uncertainties that arise when sending flowers to a hospital.
Are they at the hospital and will my flowers arrive before they leave?
Where in the hospital are they? What is their room number?
Does the hospital allow them to receive flowers?
You may not know the answers, but there is an easy and risk-free way to send them flowers.
The Social Flowers Solution for Hospitals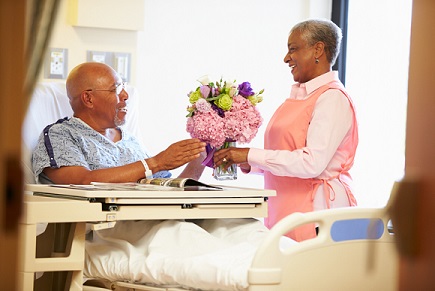 Social Flowers lets the recipient choose the delivery location and date when you send them flowers. The recipient receives a "You've Got Flowers" link through email, text, or social media.
If they are at the hospital and can receive flowers, they supply the hospital delivery information. If they are leaving the hospital, or wish to receive the flowers at home, they can provide their home address. 
You are only charged if your recipient accepts the flowers.
Having the recipient be a part of the process also allows them to expect the delivery and look out for it. This helps ensure flowers are not left at the nurses station or waiting for them in the hospital lobby with the receptionist. 
A Personal Story from Brian, One of Our Founders
Our friend Nancy was having surgery at a local hospital. My mother and I wanted to send her flowers to let her know we were thinking of her and wish her well. 
We didn't know the date of surgery or if she was staying in the hospital overnight. I knew where Nancy lived but didn't know her address. I had her mobile number so I used that to send her an arrangement through Social Flowers.
Nancy wasn't admitted to the hospital overnight, so she chose to have the flowers delivered to her house. Not long after I placed the order, I got a text back from Nancy thanking us.
My experience with using Social Flowers made me realize and appreciate the problems we were solving relating to sending flowers to a hospital.
Brian