How to Send Flowers to Someone from Work
At checkout, provide the recipient's email address and/or mobile phone number
We email and/or text them to provide a delivery address and choose a date to receive the flowers
You will also receive a "You've Got Flowers" link that you can send to them through Slack, Microsoft Teams, or any social media channel
The recipient decides where and when they want to receive the flowers
Fresh flowers are hand-delivered by a local florist
Personal information such as address and names are not shared with either party
You only pay if the recipient accepts the flowers
Send Flowers to Employees for Any Occasion, Anywhere
Social Flowers allows employees and colleagues to receive flowers anywhere, not just at work. This makes it easy to send flowers for any occasion including:
Send Flowers to Colleagues and Coworkers Easily
When you want to send flowers to someone you work with, there is a good chance you don't have their home address. If you are a colleague or their manager, your options are to ask for their address, or to send flowers to the office. 
Asking for an Address
Asking the employee for an address to send flowers is not always ideal. You may want to surprise them, or if they are dealing with an issue outside of work, they may not be reachable.  Requesting the address from human resources is problematic due to privacy issues. 
Flower Delivery to Work
Sending flowers to work is an option if the person is at the office. However, many employees work remotely and others would rather enjoy their flowers at their home. Often, we want to send flowers when an employee is taking a leave for things like a funeral, maternity leave, or they are sick. 
You can eliminate these problems by using Social Flowers. We contact the recipient to ask for a delivery address and they can choose where and when they want to receive them. 
Reasons to Send Flowers in the Workplace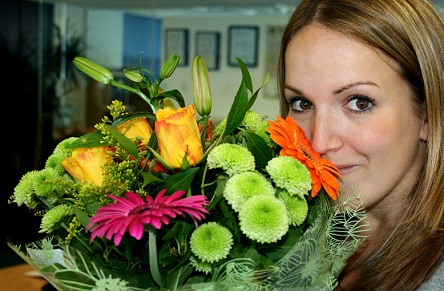 Here are some ways flowers can be used in a professional setting:
Stay Connected With Flowers
Flower sales flourished during the pandemic. When we couldn't be there in person, we sent flowers to reach out and brighten someone's world. Flowers help us touch lives, bring joy, and stay connected.
In the workplace, flowers can be present for us as our remote teams become increasingly disconnected. They also help us stand out and make an impression in the business world.
Flowers Can Be Sent Safely
Large corporations generally have strict controls on how an employee's personal information, such as a home address, can be shared. When a company shares this information, there is potential for misuse.  
Social Flowers solves this problem because the sender never sees the recipient's address.
Deliver Flowers to Any Contact
Social Flowers can also be used as a tool to gain attention, stand out from competition, or attract new business. A business card or social media connection is all that is needed to send flowers and help attain something you need.
A job seeker can send flowers to a LinkedIn contact to land an interview.
A salesperson can gain the opportunity to make a pitch to a sought-after prospect.
A business person can help close a lucrative deal.
Corporate Flower Delivery Made Easy
The ease of sending Social Flowers, combined with privacy and consent features, make it an ideal solution for corporations to send flowers to their employees. 
We provide delivery across the United and Canada and are happy to discuss how we can further help your business send the flowers you need. Please contact us.