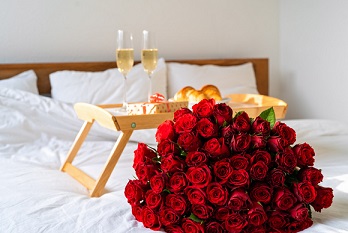 A companion is a fantasy that provides a connection that rises above everyday life. 
Flowers have been a part of romance and passion for thousands of years and can be used to elevate the an experience. When a companion receives flowers, they marvel at them, feel special, but more importantly, they feel their own beauty inside. 
Giving flowers touches the heart, it strengthens bonds, and it elevates a proffesional to that of a courtesan, or cherished companion.
Receive Flowers From Clients To Elevate Your Experience
As a provider, you deserve to feel special. Your clients think you're special, they can show that by sending you flowers. Flowers help us feel our own inner beauty and they beautify our home.
You can receive flowers from clients safely and securely with Social Flowers without providing clients with your address. If you have a website, you can link to us from your "Spoil Me" or "Gift" page, or you can mention us your wishlist and social media to let your followers know you want to receive Social Flowers.
How Not To Give Flowers to a Companion
Giving flowers in person creates quite a few logistical and practical problems.
Flowers can be an awkward thing to carry around and they draw attention. They need to be transported in a car, and often carried through a hotel lobby. If you are carrying them as a hand-held bouquet, they will need a vase and water soon after they are given. The companion then needs to deal with the issues of transporting them. 
The larger and more impressive the arrangement, the harder these problems become. 
Social Flowers: A Smart and Safe Solution
Social Flowers makes giving flowers easy.
Flowers are hand-delivered by a local florist. All that is needed to send flowers is an email address, mobile number, or social media contact. 
The recipient provides a delivery address and chooses a date to receive the flowers. They can choose to receive them at their home or a hotel.
All personal information of the client and recipient is kept private. The sender and the service provider never see each other's address and choose how their names are displayed on the order.
When choosing a date and location for flowers to be delivered, there is an "Additional Privacy" feature that allows the professional to remove references to their working alias on the card that comes with the flowers.
Send Flowers Before or After Your Date
Social Flowers can be given before or after the date with your special girlfriend. This has several advantages and also removes the potential awkwardness and issues of giving flowers in person at the time of your meeting.
Pre-Date Excitement
You've gone out on a date with your muse, now it's time for a second date. 
Giving flowers before your meeting will be unexpected and it will add to the anticipation and excitement of your meeting. Your thoughtfulness will be appreciated and you will make a strong impression before you arrive.
Post Date "Thank You"
Companions receive so many compliments that words can lose their meaning. Giving flowers is a different and elegant way of saying "Thank you, our time together was special". 
Sending flowers after a meeting with a service provider will impress them, help you stand out from other clients, and strengthen your connection if you plan to see them again. 
"Wow!" Them
Social Flowers offers high-end arrangements to blow a special person away and really have them saying, "Wow!".