Send Real Flowers Through Skype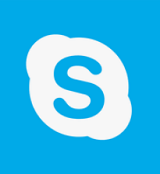 Social Flowers lets you send real, florist delivered flowers to a Skype contact. To send flowers through Skype, the recipient needs to be a Skype contact in the United States or Canada.
Sending flowers on Skype can be used to celebrate an occasion, to make an impression, or to get attention. Social Media and Skype can be noisy, busy and repetitive. Fresh flowers that are hand-delivered by a local florist brightens a day and cuts through the mundane.
How It Works - Flower Delivery Through Skype
Choose and pay for flowers here at Social Flowers.
You receive a "You've Got Flowers" link for your Skype recipient to accept flowers.
You send your WhatsApp contact the "You've Got Flowers" link through a Skype Chat or Private Conversation.
Your contact clicks on the link, provides a delivery address and we deliver fresh flowers.
Why A Private Chat or Conversation on Skype Is Needed to Send the "You've Got Flowers Link"
A "You've Got Flowers" link allows your Skype contact to enter the delivery address to receive the flowers. The "You've Got Flowers" link is sent by you to your Skype contact through a private chat.
Anyone with a "You've Got Flowers" link can receive flowers so it's important to only send this link to the your friend privately in a Chat or Private Conversation not in a group chat since anyone with the link can accept the flowers.
More on Sending Flowers Through Skype and Social Networks
Order today and make and impression with a Skype contact with a "You've Got Flowers Link"!