Flowers Are Timeless for a Reason
Flowers have been associated with love, romance, and passion for thousands of years.
This is because flowers can touch someone we adore in ways we can't. Their beauty captivates, their fragrance is exquisite, and giving them strengthens the bonds of love and affection.
Giving Flowers When Dating Is Not Easy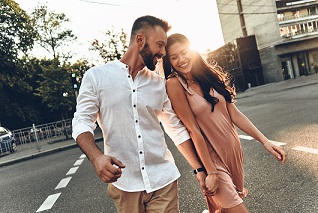 In today's dating world, giving flowers can be difficult.
Showing up with flowers is tricky. Is it appropriate to give them on a date? How can I carry them? How will my date react to receiving flowers in public? Where will they be kept? 
When we start dating someone, we usually don't know their address which prevents us from sending them. 
Social Flowers to the Rescue   
Social Flowers lets you send flowers without having an address. The recipient receives a link and they provide the delivery address. Flowers are delivered by a local florist and information for both parties is kept private.
You can choose for Social Flowers to contact the recipient on your behalf when you have their email address or a mobile number. If you don't have either, you can send your recipient a "You've Got Flowers!" link through a direct message on any dating app or social network. 
This means you can use flowers to go beyond words, emojis, and text while messaging. Here are some eciting ways Social Flowers helps make connections, strengthen bonds, and improve your dating life. 
Make Online Dating More Exciting
Online dating can get repetitive. After a while, many messages are similar and you have the same types of conversation. You can make it fun (and even receive beautiful flowers!) by adding a link to Social Flowers on your dating profile. Niki on TikTok did just that:
Stand Out From the Competition
The online dating world is a crowded, noisy place.
Even when you've been matched, you may not be getting messages. When you do get messages, they may be short or lacking enthusiasm. 
After a lot of work, you have some communication, but realize you are one of many people vying for their attention. Your efforts to move things to a date have not worked out… so far.
Sending them Social Flowers surprises them with something completely different and lets you stand out. It shows them you're serious and it's a subtle, classy way of becoming their priority.
Pre-Date Excitement
You're going on a date!
There is lots of excitement ahead of your date and there is a way you can turn up the heat: Send them Social Flowers.
This thoughtful gesture and the beauty of flowers heightens the anticipation. It will be appreciated, and it sets the stage for something truly special to unfold.
Post-Date Sentiment and Thank You
You had a great date. 
You're excited and can't wait to see this person again. You want this dating experience to be different. Show them it's different by sending them Social Flowers.
There are many people that have never received florist-delivered flowers. This is a great opportunity to use flowers to touch their heart. It's unique and it shows them you think they are special. 
Your date may have been very generous and did not let you pay for anything. They brought their best and now it's time to show yours. Sending them Social Flowers is your way of saying "Thank You"—with flowers instead of words. It not only reciprocates, it lets them know that you like where this is going.
From Dating to Commitment
You want more than dating. 
Your dates have been magical, and you want this person to become a bigger part of your life.
Commitment is the next step, but how do you get there? You can have the typical, awkward conversation and ask, or you can ask them with the help of flowers.
"Will you be mine?"
Say it with the help of a gorgeous flower arrangement and turn a "yes" into a "Wow! Yes!"
Celebrating an Anniversary
It's the anniversary of a special day. 
That meaningful day can be an anniversary of when you first matched, your first date, or since you've been exclusive. You can be creative and brighten this special day with the Social Flowers. They won't expect it, but they will certainly appreciate you for it.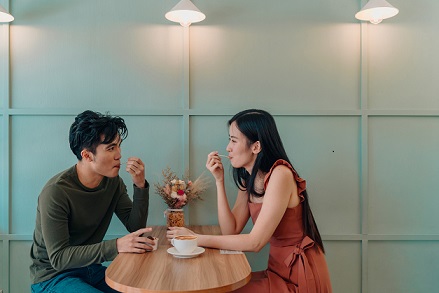 Take a Friendship to the Next Level  
You want to be more than friends. 
Not all dating originates online. There is that high school friend you've been communicating with all these years, but now you see them differently. That friend of a friend that you're always smiling with, or that colleague you have amazing conversations with.
You're thinking that there should be more to this. How do you go about it?
Social Flowers is a safe way to connect on a different level and explore more than friendship.
A Powerful, Risk-Free Dating Tool
Social Flowers can be used in a variety of ways to improve your dating experience.
But what if the recipient does not accept your flowers? In that case, you don't pay. You only pay if flowers are delivered which guarantees you're only spending money when a connection with flowers is made. It's a monetarily risk-free proposition which allows you to be experimental. 
Social Flowers lets you move things along and gives clarity in a cloudy dating landscape. You're either taking things to the next level with this person, or finding out that maybe they're not for you and it's time to keep looking. 
Either way, you're one step closer in finding a person that is right for you, and you've got the timeless and powerful gift of flowers on your side.